Iwajla Klinke
germany
Iwajla Klinke: Where Traditional Meets Contemporary
Consider traditional garments intentionally presented with black backgrounds in simple yet elaborate portraits, evoking classicism such as those of Caravaggio. As the artist lets the rawness of the artwork speak for itself, you are struck by the poetic contrast the dark adds to the wonderfully colored garments.
Iwajla Klinke is a renowned Berlin-based contemporary artist whose work marries the traditional with the modern. Her pieces are timeless works of art that will be appreciated for generations to come.
Rooted in Tradition
Iwajla Klinke was born in Greifswald, Germany in 1976. She studied art history and political science at the Freie Universitaet in Berlin, as well as Jewish and Islamic studies.
After working for various TV stations in Tel Aviv, Gaza, Jordan, Italy, and Poland, Klinke made notable documentaries and transitioned into artistic photography. She has always been passionate about bringing to light the different customs and traditions of different cultures around the globe.
Klinke has exhibited her work worldwide, including in Paris, Monaco, Barcelona, and Jerusalem. Her affinity with traditional clothing manifests itself through imagery, and she was awarded the Neuflize OBC Personnel Prize in 2014.
A Never-Ending Search for Creativity
In search of ancient rituals and customs still alive today, Iwajla Klinke traveled to small villages in Lusatian and photographed traditional Sorbian customs. Her search took her to remote valleys in Tyrol, Scottish islands, as well as to Brazil, Mexico, and Africa.
Klinke's artworks demonstrate the reverence that allows her to achieve a delicate balance of cultural respect and contemporary appeal. Some of Klinke's famous exhibitions include "Journey to Jerusalem. Artistic Positions on Religion, Tradition and Taboo," in which she devoted herself to the customs of Christianity in Sicily.
Showcasing young adults and adolescents in striking and bold clothing, Klinke sees puberty as "the time before a transformation," and her work encompasses more than sexual identity. Children would intuitively understand their meaning in the artwork by seeing themselves as the center of rituals.
The selected artworks emerge from multiple photoshoots, hundreds of rejected photographs, and very little manipulation. This is why Klinke is one of today's most organic digital artists.
The Role to Encapsulate Tradition
Iwajla Klinke's art is kept in its purest form by using only natural light and conducting most of her shoots in her Kreuzberg studio. With a dark background and simple but intentional portraits, the sacred clothing speaks for themselves, allowing tradition and culture to be communicated.
On her unending quest to uncover sacred traditions around the world, Klinke unearths forgotten cultural clothing from the past to immortalize them through her art. Hopefully, the timeless nature of her work will infinitely resonate with people.
Discover More
We describe Iwajla Klinke's works as intimate and raw. She has an eye for unconventional beauty, reflected in the models and in the way she shoots. We are immersed in the wonders of sacred traditions through her art and how, despite the differences, they can bring us together. View Klinke's works of art on Instagram.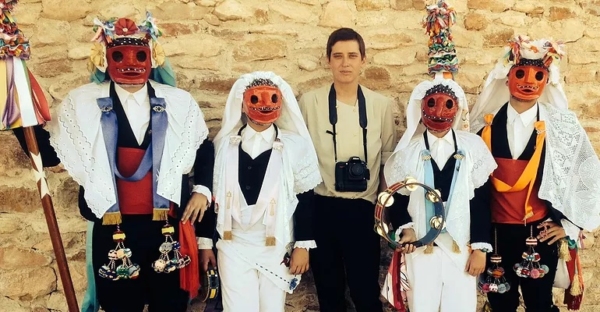 We would love to hear from you !
Are you looking for more information about an artwork ? You have a question ?
Complete our form, we will get back to you as soon as possible!