Derrick Ofosu Boateng
ghana
Rising Artist Derrick Ofosu Boateng and His Look on Vibrant Ghana
There's something uniquely genuine with Derrick Ofosu Boateng's digital portraits; a proud look of Ghanaian culture rarely seen in the world view. Bursting with highly saturated and contrasting colors, and striking poses mixed with whimsically placed objects result in some of the most energetic and inspiring pieces of art in this generation.
Shot and edited with an iPhone, Boateng's photographs retain a meticulously composed yet heavily stylized look into vibrant Ghana, a perspective Boateng has developed entirely through his love of his hometown.
Foundation Through Love
Growing up in Ghana and currently based in its capital Accra, Boateng has always had a passion for his culture; preferring to highlight his people, their rich culture, their peace, and their energetic approach towards everyday life.
However, being an artist was not a simple choice to make at the time, as it is more common to have a technically stable office job that will sustain a family's needs.
Originally, Boateng used Instagram only to take casual pictures of people he saw in his everyday life. Nonetheless, he soon realized that there was potential to his work once feedback started to trickle in. He started using his father's iPhone and improved his craft further. It is through digital art that Boateng was able to awaken his creative potential.
Developing the Craft
Photographs of Derrick Boateng's awe-inspiring works are created with a mixture of photos taken with an iPhone and digital retouching where he transforms his photos into vibrant masterpieces.
Why use a phone? Simply put, Boateng sees the phone as something most people also see, fast and convenient. This also hankers back to his early beginnings, when he casually took photos of everyday life using his father's iPhone. Phone photography allows Boateng to be more free, compared to regular cameras that, to him, restricts his movements.
The playful colors contribute a huge part in Boateng's creative process, mentioning that colors have a way to influence feelings. The creative use of colors allows him to highlight the beauty and vibrancy of his people, thier culture, and environment.
Although Boateng's photographs are surreal and at times dreamlike, there is a straightforward goal: to communicate the everyday life of Africans through the lens of a fellow African.
Voice Through Art
A keen observer of his surroundings, Derrick Ofosu Boateng has grown tired of seeing his people painted in a negative light via the limited lens of the media. Thus, Boateng's creative journey has revolved in shifting the narrative towards Africa; a bright perspective featuring his people through vibrant colors that give homage to patterns familiar in African art.
The intimate images Boateng captures may have been taken in Ghana, but they are representative of life everywhere on the continent. African culture, lifestyles, and behaviors are represented, thereby "changing the story that is told of Africa."
Through the emergence of his art, Boateng is also hopeful of an art industry that is more broadly accepted in Ghana and across the continent. He also hopes to inspire young African artists to engage in the art scene.
Discover More
A striking blend of honesty and dreamlike that somehow provides comfort to the spectator is how Boateng's works can be described as. You can feel the love Boateng has for his people, and his voice speaks loud and proud through his art.
Derrick Ofosu Boateng has made an online presence since 2018 through his unique works of art. Follow Boateng and his artworks on Instagram.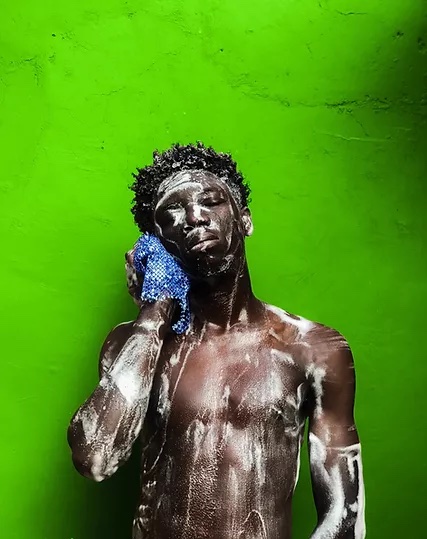 artworks
by Derrick Ofosu Boateng
We would love to hear from you !
Are you looking for more information about an artwork ? You have a question ?
Complete our form, we will get back to you as soon as possible!